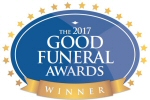 Crematoria operator Memoria are today celebrating after their South Oxfordshire Crematorium & Memorial Park was named as 'Best Crematorium in the UK' at the Good Funeral Awards. It was a great day for Memoria who also won an award in the 'Best Low Cost Funeral Provider' category.
The Awards which are organised by The Good Funeral Guide are widely renowned as 'The Oscars of the Funeral Industry' with this year's awards taking place at an impressive ceremony at Porchester Hall in London and attracting the most talented individuals and companies in the industry. All of those present had been nominated for their outstanding services to bereaved families.
Memoria's reputation as the leading provider of excellence in facilities and service was underlined after being shortlisted in this year's awards 11 times and across 4 separate categories, more than double that of any other company nominated.
Memoria CEO Howard Hodgson said, "We are absolutely delighted to win the award for "Best Crematorium in the UK" along with a second award in the "Best Low Cost Funeral Provider" category. It is our mission to provide excellent facilities to bereaved families and with 282 crematoria in the UK, it is fantastically rewarding to see our Crematoria recognised as the very best by not just taking top spot but also dominating the category with 7 of the 13 shortlisted finalists coming from our sites".
The award in the "Low Cost Funeral Provider" category came as a very topical one just a week after the release of the annual Royal London Funeral Cost Index Report revealed that after a "False Dawn" drop in the average funeral cost in 2016, prices have now risen sharply again.
Speaking at the awards ceremony, Paul Reed – Managing Executive of Memoria's Low Cost Funeral Ltd said "The findings in the Royal London Report of an over the rate of inflation (3%) increase in the average cost of funerals will come as a bitter pill to swallow for families who are struggling to meet the already significant financial requirements of a funeral. Memoria have shown here today that the very best standards of service and facility can be achieved without busting the bank and there is a real alternative for those families who want a 5-star service at a very affordable price".